Highland Park Property,
Hampton Parish, New Brunswick
The Property
Highland Park - For families seeking affordability, convenience and a quieter, more relaxing lifestyle.
Highland Park is a development located in the Parish of Hampton near the Town of Quispamsis.
The property consists of approved residential building lots located along the Damascus Road. The lots contain a minimum area of 4000 square metres (1 acre). Existing development in the area consists of residential dwellings (houses and mini-homes) in a rural setting. Development controls are under the jurisdiction of the Royal Planning District Commission who is also responsible for issuing building permits. Reports from the Department of Health and Wellness are available with details on well and septic system installation requirements and driveways are constructed at locations approved by the Department of Transportation. All lots in Highland Subdivision are maturely treed and the surrounding area is a wilderness setting with great opportunity for outdoor activities. Why not try the peace that comes with country living and rural atmosphere at Highland Subdivision located a few minutes from the Town of Quispamsis.
For more information about the Town of Quispamsis visit:
http://www.quispamsis.ca/

Highland Park Property (click here for an enlarged image)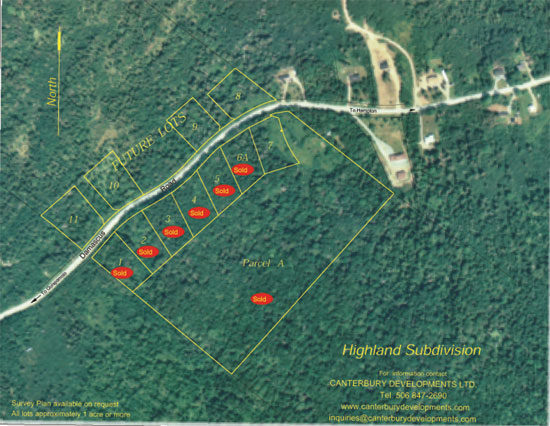 Highland Park Plan (click here for an enlarged image)

Highland Park Lot 7 Plan (click here for an enlarged image)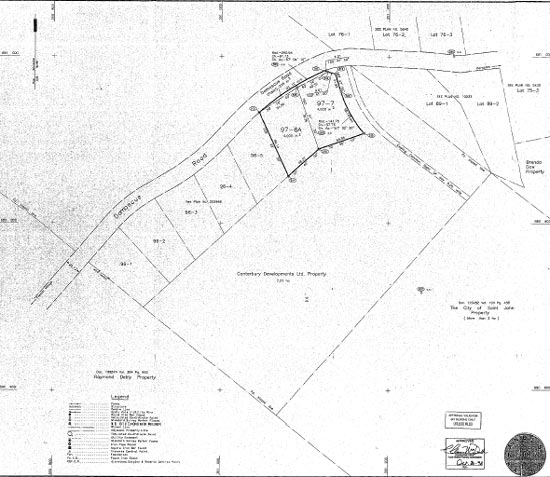 Contact Information
Canterbury Developments Ltd.
3 Donald Road,
Rothesay, NB E2S 1A7
Tel. (506) 847-2690
Web www.canterburydevelopments.com
Email inquiries@canterburydevelopments.com