Highlands of Queensbury

Town of Quispamsis, New Brunswick

Highlands of Queensbury is located at Queensbury Drive in a newly developed area surrounded by some of the highest quality homes in the Town of Quispamsis, one of New Brunswick's most rapidly expanding communities, a short 20-minute drive from Saint John. We are minutes from the Quispamsis commercial area, where every convenience – from groceries, to healthcare, to library services- are available. Quispamsis offers active recreation programs, a wide variety of religious facilities, new subdivisions, regional fire, ambulance and police services, an arena, regional library, two elementary schools (French Immersion Programs), a middle school, and one of the largest high schools in the province all just minutes away.

(click here for a larger view)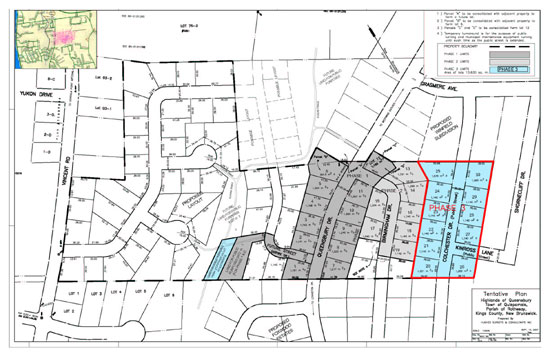 Whether you are looking out over the valley enjoying the sunset and peace and quiet from your deck, or taking in the many amenities Quispamsis has to offer, our suburban setting is perfect for raising your family. A new community close enough to the city for convenience, yet far enough away that the wooded walking trails and boating or sailing are just outside your door.

Lots starting at $49900. Only 3 lots left in Phase 2. Don't be disappointed; reserve your lot in Phase 3 now for early 2008 spring construction so you can enjoy what the community has to offer.
Complete Home Packages Available!

For more information about Quispamsis visit; http://quispamsis.ca/whats_happening.htm
For more information about Saint John visit; http://www.saintjohn.ca/

Contact Information
Canterbury Developments Ltd.
3 Donald Road,
Rothesay, NB E2S 1A7
Tel. (506) 847-2690

Web: www.canterburydevelopments.com
Email highlandsofqueensbury@canterburydevelopments.com